Gujarat is known for its vibrant lifestyle and rich heritage, where there is a perfect blend of art, music, history, and culture. This state delights the tourists with the splendid view of the scenic beauty of the Great Rann of Kutch and the hills of Satpura. You can explore a wide range of spectacular attractions, several architectural wonders, some beautiful antique cave paintings, historic murals, Stepped Wells, Jain Temples, Asiatic Lion, holy temples, historic capitals, wildlife sanctuaries, beaches, hill resorts, and fascinating handicrafts.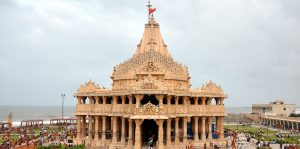 Gujarat is the home of various beautiful cities and their hidden interesting tales. Dive into the holiness of Dwarka and Somnath where this religious city carries spirituality in the air and is the part of Char Dham yatra and Sapta Puris attracting thousands of pilgrims. Get to know the birthplace of Mahatma Gandhi, Kirti Mandir a haveli in Porbandar, and Some imprints of the Portuguese such as The Diu Fort, St Paul's Church in Diu. Witness the might Asiatic Lions and other wildlife species in Gir. Explore the ancient culture and edifices in Ahmedabad and enjoy the colorful festival of Navratri in Vadodara.
The vibrant and colorful state has many splendid things to offer. Wander the beautiful places of Gujarat and explore the local sightseeing, attractive handicrafts, passionate beaches, ancient edifices with historical stories, unique wildlife, vibrant culture.
Things to do:
Fairs and festival
Water sports activities
Camel riding
Porbandar bird sanctuary
Wildlife sanctuary
Travel to some beautiful places of Gujarat and discover the best of its culture, specialty, and cuisine by local sightseeing. Plan the best holidays with Regal Holidays by choosing our different Gujarat tour packages.